Happy #HashtagDay!
The 11th hashtagiversary, a quick favor, upcoming speaking events, and early access to a new project...
Wow, so it's been forever since I last wrote and there's been a lot going on. You may or may not know, but I parted ways with Molly in April and now I'm on to new adventures. Here's the latest from me:
---
Happy #HashtagDay!
Today marks the 11th anniversary of the first ever use of a hashtag: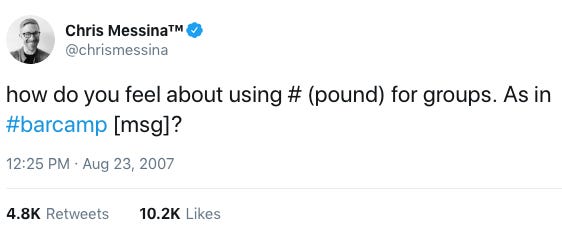 Of course, the origin story of the hashtag isn't complete without referencing my blog post where I spelled out how "tag channels" should work, complete with mockups for trending topics!
According to Twitter, there are now over 125M hashtags shared every day — and that's just on Twitter. As I've explained elsewhere, hashtags were never intended just for Twitter, even though that's where they started. Instead, they were intended to be used as a means to unify conversations across social media, and indeed it turns out that they're broadly used on nearly every platform that allows you to write your own text!
If you want a deep dive on the origins of the hashtag, check out this story that my friend Michael Calore published last year for Wired's Gadget Lab.
And if learning about esoteric typographic symbols is more your thing, Roman Mars recently re-aired an interview I did for 99% Invisible on the origins of the octothorpe (the hashtag's technical name) in their episode on the interrorbang.
---
Relationship Design: the next frontier?
I've lately been exploring an expansion of conversational commerce, the phrase I coined to describe the rise of brands and software services that are delivered through 1:1 voice and messaging channels, with something I call Relationship Design. It's still early days and frankly, it's currently a pretty high level framing, but there's something important in it.
I've recorded two podcasts on the topic and I'd love for you to take a listen and let me know what you think:
Can I ask for your vote?
If this topic interests you, I'd love to get your vote for my SXSW 2019 panel featuring Andy Mauro, Shane Mac, and Kathryn Hume. Voting ends August 30, so please do this ASAP!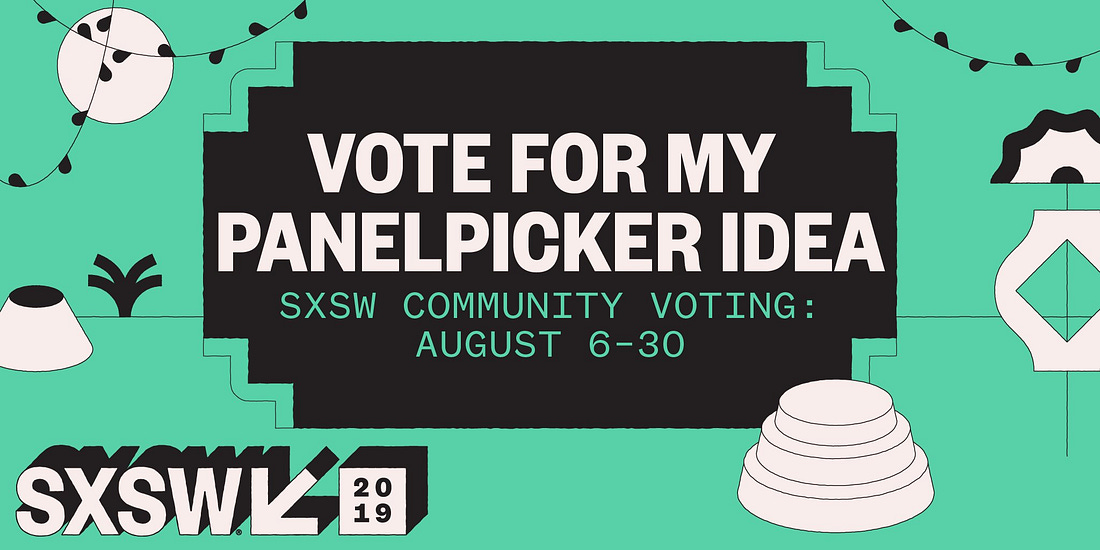 Come see me speak IRL
In addition to podcasts, I've also got two speaking gigs lined up this fall where I'll continue to explore the idea of Relationship Design and conversational brands.
The first is the Conversational Commerce Conference put on by Opus Research in San Francisco from September 12-13.
The second is Forrester's CX SF 2018 event in San Francisco from October 2-3. I just recorded a podcast with the What It Means team this morning so subscribe so you don't miss it!
Now for something totally new…!
Ok, here's something you definitely don't want to miss, because I've been keeping this under wraps… I've been working on something new with the Facemoji team called Fmoji (pronounced fuh-mo-gee). It's not public yet but I'm looking for early testers to help us define the direction of this new concept. I won't say much more, except to leave you with a teaser: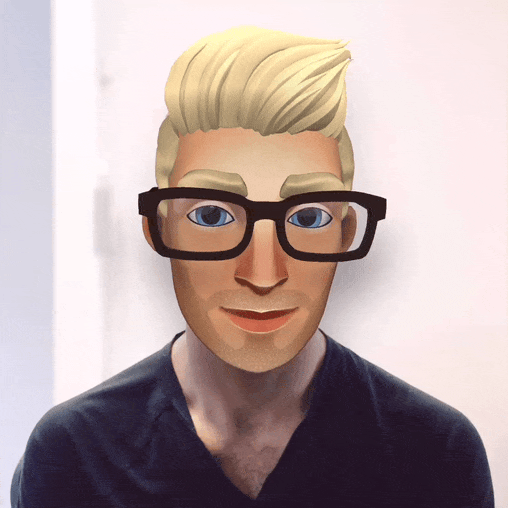 Subscribe to get updates here. Invites are limited.
Til next time! <3